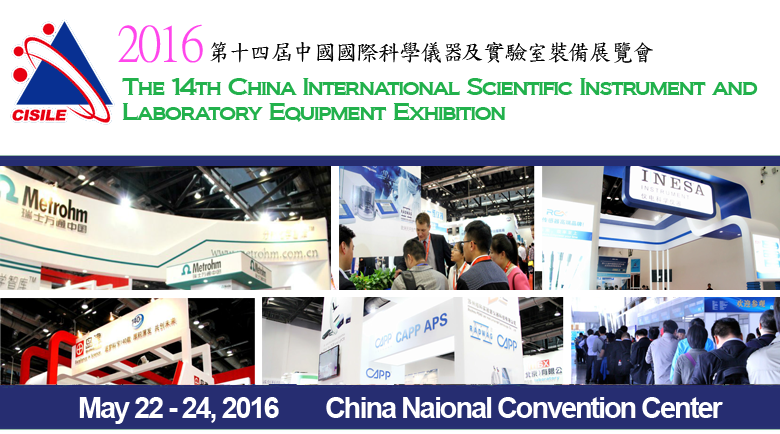 Approved By:
Ministry of Commerce of the Peopleˇ¦s Republic of China
Supporters:
China Machinery Industry Federation
China Education Equipment Industry Association
Organizer:
China Instrument Manufacturers' Association
Managed By:
Beijing Lamp Exhibition Co., Ltd.
Overseas Sales Agent:
Goodwill Exhibition & Promotion Ltd., Hong Kong
The Exhibition
14th CISILE 2016, organized by China Instrument Manufacturersˇ¦ Association(CIMA) and supported by China Machinery Industry Federation and China Education Equipment Industry Association has been recognized as the Asiaˇ¦s top scientific show in China. CISILE 2016 ˇV 14th in the series ˇV will not only a substantial exhibition that can bring you to the right group of audience, but it will also be a crucial date in the calendar, an industry statement, a key focus, a complete event ˇV an exposition in every sense of the world.
In 2016. CISILE will have one factor guaranteed ˇV it success as a vital show place for the industry. Thatˇ¦s one thing no one want to change.
Strong Government Support - About The Organizer
China Instrument Manufacturersˇ¦ Association is a nationwide industrial organization voluntarily composed of instrument manufacturers, institutes, universities and colleges. Most important of all, CIMA is being acted as the end-user and buyer whom have firmly requested this trade fair to be a major opportunity to examine and purchase an advanced foreign equipment and technology. Moreover, at present, CIMA has more than 800 manufacturer members in all major municipalities & cities in China.
Our Track Record:
CISILE 2015 has occupied around 25,000 square meters of exhibition space with 700 exhibitors demonstrating their latest technologies from 30 countries and regions which include China, U.S.A. , Germany, France, Japan, India, Singapore, Russia, Finland, U.K., Netherlands, Korea, Spain, China Taiwan, HKSAR & etc. More than 21,000 professional visitors. But a more significant and tangible result was an exceptional level of immediate reservation for CISILE 2016 which highlighting their commitment to CISILE ˇV Beijing and the market it serves.

Once again, the CISILE series has ˇ§ Done The Business ˇ¨.

Promising Market In China And Huge Potential For Growing
The Scientific Instrument, Chemical Reagent And Laboratory Equipment serves as an important bolster for R&D condition, the market demand in China is increasing significantly. A wide range of applications for scientific instrument boast plenty of research institutes, universities and analytical lab setups in China. Recently, the demand for instrument and equipment in the industries of quality inspection, environmental protection, health care and agriculture has enormous increased . The market demand and government support will effectively boost the development of these sectors at home and abroad, particularly the Chinese instruments.
CISILE will create an ideal opportunity for the manufacturers to access China market and further expand the market share.
Symposium and Featured Conference
Symposium and conferences on the international scientific instrument, chemical reagent and laboratory equipment will be held during the exhibition period. Government officials, experts from home and representatives from the leading company will be invited and deliver subject speeches on such hot issues as the development trend of the industry, life science and environmental protection.
Instruments:
Spectroscopic Analysis Instruments, Chromatographic Instruments, Spectrum Instruments, Mass Spectrometers, Combination Instruments, Energy Spectrum and X-ray Analysis Instruments, Microscopes and Image Analysis Instruments, Electro Analytical Chemistry Instruments, Thermal Analytical Instruments, Element Analysis Instruments, Specialized Instruments, Carbon and Sulphur Analysis Instruments, Particle Sizing Systems, Biochemical and Medical Instruments, Environmental Monitoring and Analytical Instrument, Physical Property Analysis Instruments, Measuring & Testing Instruments, Nuclear Analytical Instrument.
Chemical Reagent:
Clinical Diagnosis and Biochemical Reagents, Special Reagents (includes chiral reagents) and Intermediate Chemicals, Electron Chemicals, Chemicals for Laboratory, Standard Substance.
Laboratory Equipment:
Laboratory Instruments & Devices, Electron & Optical Imaging Processing Equipment, Special Parts & Systems, Laboratory Database Management System, Analytical Instruments Software, Laboratory Furniture, Laboratory Utensils and Consumables.
Back to Top
Visitors Profile & Propaganda Campaign
1. Plan for the promotion:
To make full use of the network resource of the sponsors, co-organizers and supporters to respectively organize the visitors from the key sectors.
To promote the event in full swing on the newspapers, professional magazines and websites.
To take advantage of the database of the sponsors, send out all invitation tickets through the guild and professional magazines for inviting the visitors from the research establishments, R&D centers, universities, manufacturers, agents and the professional visitors.
2. Professional Visitors From:
The decision-makers, technicians and purchasers from such industries such as Petrochemistry, Iron and Steel, Electricity Power, Medical, Pharmaceuticals, Environmental Protection, Food, Electronics as well as research institutes and testing organs.
1.
Booth

Standard Booth
US $ 3,500 / 9 sq.m (3m x 3m)
US $ 3,800 / 9 sq.m (3m x 3m, corner booth)
Raw space
(Indoor)
US $ 350 / sq.m (Minimum 36 sq.m)


*For raw space booking, additional charge for carpet, power supply and management expenses, etc. will be paid by exhibitors.
Standard booth furnished with:

1 table
2 chairs
2 fluorescent tubes
One 400w / 220V single phase outlet
Fascia board with company name
Clapboard (250cm H, 246cm)
Carpet

2.
Advertisement in Show Directory : 140mm(W) x 210mm(H)

| | |
| --- | --- |
| Option | Price |
| Front Cover | US$ 3,000 |
| Back Cover | US$ 2,000 |
| Front Inside Cover | US$ 1,600 |
| Back Inside Cover | US$ 1,400 |
| Run of Book Full Page (Color) | US$ 850 |
| Run of Book Full Page (B/W) | US$ 500 |




3.
Technical Seminar

US$1000 is charged for 60 minutes. US$200/ hour for additional booking.
14th China International Scientific Instrument and Laboratory Equipment Exhibition
*Booking Deadline : April 15, 2016
Yes, we would like to join!
The 14th China International Scientific Instrument and Laboratory Equipment Exhibition (CISILE 2016) will be staged between May 22 ˇV 24, 2016 at the China National Convention Center. This convention center is currently the largest one in Asia. It is located in Beijing Olympic Park area, closed to Bird Nest and Water Cube with convenient transportation and advanced exhibition facilities.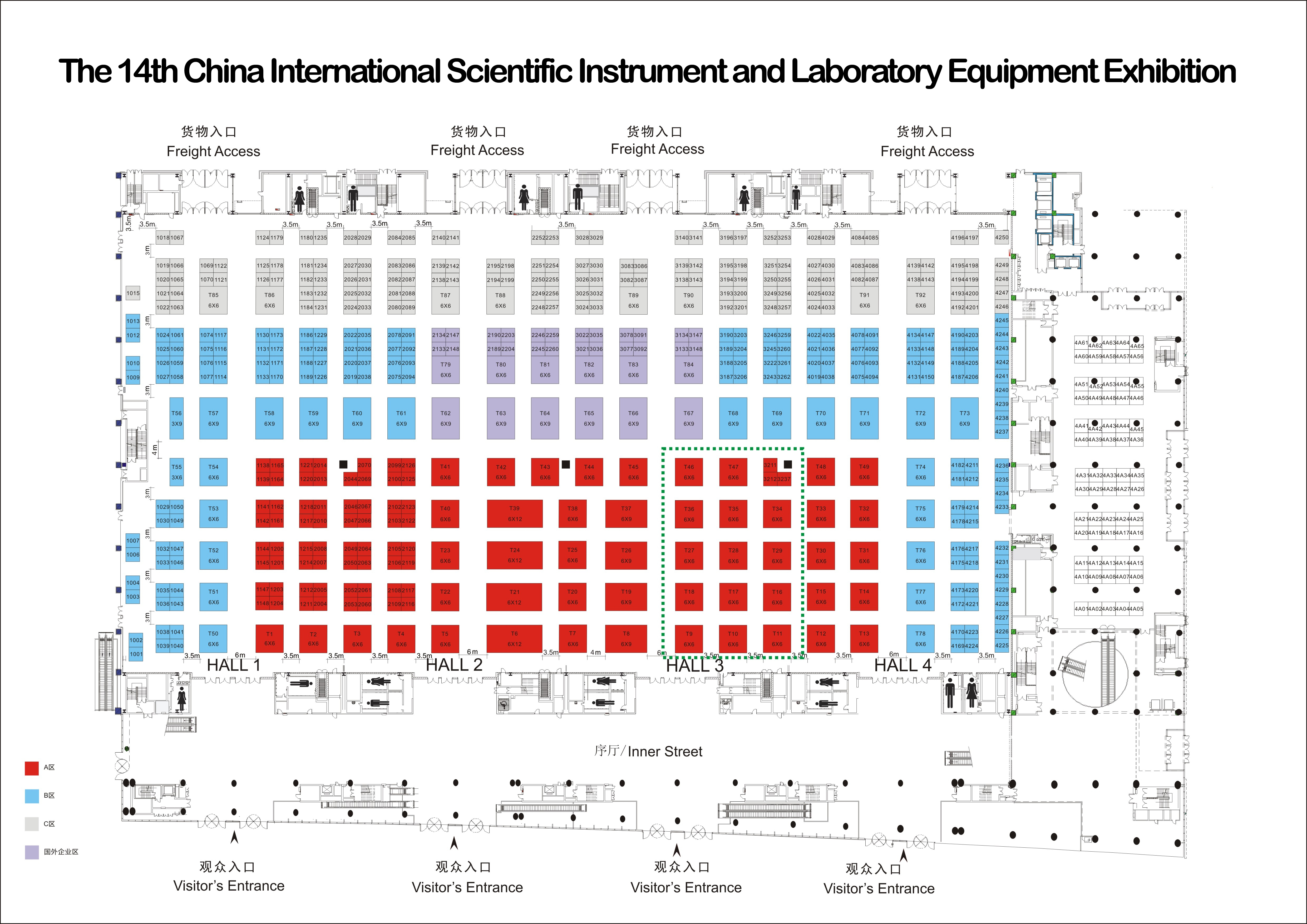 Hong Kong
Goodwill Exhibition & Promotion Ltd
Room 1409, 14/F Workingberg Coml Building
41 - 47 Marble Road, North Point
Hong Kong


Back to Top